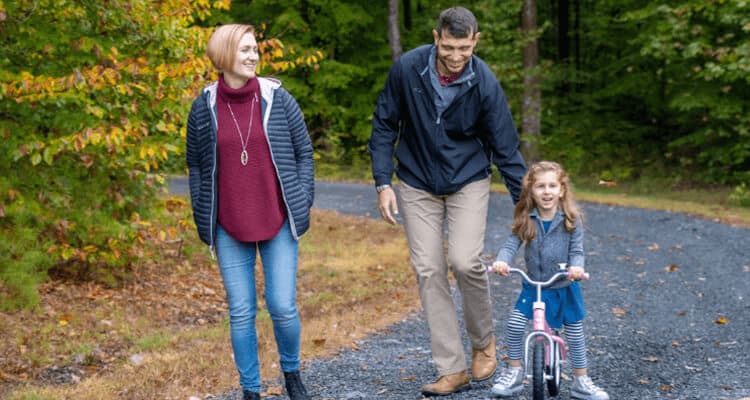 The path to treatment with ZOLGENSMA
Evelyn
has 2 copies of
SMN2
gene
Treated at
~2 months old
The path to treatment with ZOLGENSMA
Take these next steps for your child
Early diagnosis and early treatment can help stop the progression of SMA. When that treatment is ZOLGENSMA® (onasemnogene abeparvovec-xioi), we'll be there with you through every step of your treatment journey to help ensure the process goes smoothly. Here's what you can expect:
Important lab tests
Your child's doctor will schedule lab tests to help determine eligibility for your child. It's generally best to have the tests done as soon as you can so that your child can get treated as quickly as possible; work with your doctor to schedule them.
Your child's doctor submits prescription and consent forms
While waiting for the results of your child's lab tests, ask their doctor to submit two forms: a prescription form and a consent form to enroll you in the OneGene Program®, which provides additional support before, during, and after treatment.
Working with your insurance
Your OneGene Program team can help with the verifications and authorizations required for treatment.
Preparing for treatment day
To make the day go smoothly, confirm the logistics, ensure all blood work has been completed, watch for signs of infection, and start the prescribed corticosteroid. And, schedule follow-up appointments with your child's doctor.
Treatment Day!
Administer a second corticosteroid dose, and confirm follow-up appointments. Expect the infusion to take about 60 minutes. You will be asked to remain at the treatment center for a period of time after treatment. Ask your doctor in advance how long you'll be required to stay.
Moving forward after SMA treatment
Immediately after infusion
You and your child's doctor will schedule a number of follow-up appointments over the next 3 months or longer for follow-up lab work.
Your Care Plan After Treatment
Download now
Looking to the future
Your OneGene Program team will reach out to follow up. To help meet your long-term goals, speak with your child's neuromuscular specialist, and maintain check-ups.
If you still have questions about what to expect next, please reach out to your doctor.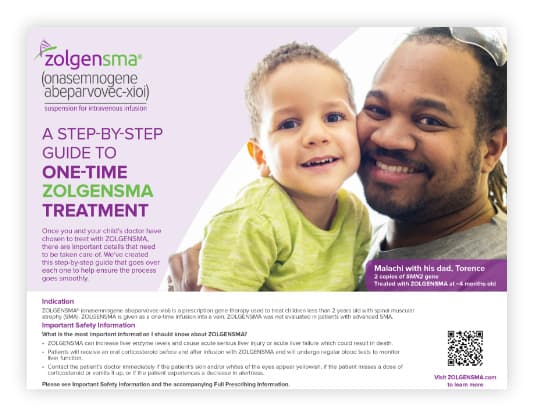 Want to know more? Download our complete guide to treatment with ZOLGENSMA
Download now